MINGER LED Strip Lights, 16.4ft RGB LED Light Strip 5050 LED Tape Lights, Color Changing LED Strip Lights with Remote for Home Lighting Kitchen Bed Flexible Strip Lights for Bar Home Decoration
DO YOU WANT TO CHANGE THE LOOK AND FEEL OF YOUR ROOM WITHOUT BREAKING THE BANK? TRANSFORM YOUR SPACE INTO A SPECTACLE WITH OUR #1 RATED LED STRIP LIGHTS.
These LED light strips are perfect to add some color and light to your home! Make any room look stylish instantly. Your guests will be amazed by how great these lights look. 
Simple to install and easy to use, the LED strip lights can be placed all over the house. They can be set behind the TV, underneath the bed, and more. Our long LED strip light kit features 300 RGB (Red, Green and Blue) LED bulbs. It includes 3 single colors and 13 mixed colors to choose from.
The RGB light strips stick to any surface with an adhesive backing and plug into any outlet. The long led strip can also be cut down easily with scissors to shorten the length if needed.
A remote control is included with the lights. The light strip remote has different modes for the lights, including brightness, speed, rotating lights, solid lights, flashing lights and more.

Easy To Install and Use.

Flexible ribbon with a powerful adhesive backside. Easily sticks to clean and flat surfaces.

Control With Your Phone.

Connect your lights to our app via Wi-Fi for even more fun and exciting functionalities. Compatible with iOS and Android devices.

Sync With Your Music. 

Sync your lights with your music to allow colors to change with the beat. Perfect for parties!

Voice Control.

Turn your lights on and off, change colors and modes with simple voice commands.
You Control Everything!
16 Million Colors.

Endless color combinations & tones with our app.

20 Built-In Dynamic Modes. 

Bring your room to life with 20 pre-set modes: flashing, fading, breathing, static, and more.

Timer Setting. 

Schedule your lights to turn off when you go to sleep or let them wake you up in the morning.

Endless DIY Color Combinations & Modes.

Use your imagination to create and save your favorite lighting settings & easily recall them whenever you want.

Take complete control of your lighting with our Magic Home Pro app. Everything you need in one kit. Available for iOS and Android. Use simple commands to control your lights. Currently compatible with Amazon Alexa, Echo, and Google Assistant. 
No Wi-Fi? You can use our 24 key IR remote which comes with every order. 20 colors, brightness and speed controls, and 4 dynamic lighting modes: flash/strobe/fade/smooth.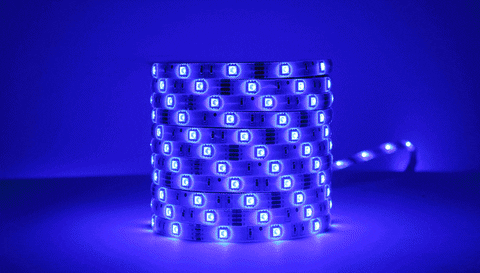 Specs:

Long life span 50,000+ hours

Cuttable and linkable to your requirement

Group control function

Strong adhesive backing tape for secure and easy application to most surfaces

Flexible ribbon for curving around bends
Each order includes:
1 x LED Strip Lights

1 x Sync Cable (for syncing multiple strip lights)

1 x Wi-Fi Adapter (for Phone/Wi-Fi/Alexa model)

1 x Remote Controller

1 x Instruction Manual

1 x Power Adapter